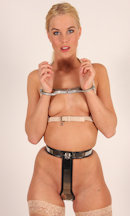 Hi, I am Sophie and I will be posting my pictures and videos on this website now Gina has left us :) I know it is sad she has decided to stop, but I hope you will like me too! I'm fairly new to bondage but I have been modelling as a hobby for some fetish websites. My Master has locked me in a chastity belt which I now wear every day, it is only taken off if I need to clean myself or go to the toilet.
I will update this page soon with more info and my stats!
My belt is a custom made NeoSteel classic straight waist, chain style belt with snap lock. It is super tight, and no, I can not touch myself at all. I don't go to the toilet in the belt (only peeing sometimes), my Sir takes it off for supervised toilet and cleaning breaks. Other than that, I have been continually belted since Xmas 2018.
My email is sophie@boundlife.com :D