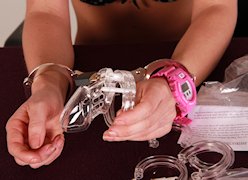 ---
So many requests are coming in for keyholding!
I can't believe it! I am not even Dominant, I am submissive, so why would you want me to hold your keys?
In the side bar on the right ->> you can see how many keys I am currently holding.
Okay, if you really want me to hold your keys, here is some basic information:
You can send me the keys to your own device, but I am not easily convinced you have sent me ALL of your keys.
If you don't have have a chastity device, I work with www.chastityshop.co.uk to supply you a device (same price!). Pick any device you like (although I love the pink silicone one).
You can receive the device either without keys (I will hold them from the start, you receive an open padlock).
Or you can receive the device with the keys and get used to it (recommended for first time chastity) to send me the keys later.
The rules and prices:
Getting into the device and sending me the keys: 50 euro I will hold and protect your keys, keep them safe.
You send me a daily picture, preferably a morning picture to proof you are still locked.
I will decide when you get out. You will not know. Asking will likely earn you extra days, so don't ask.
If you have been chosen to be let out (I will email you), you will pay me another 50 euro to ship you the keys and to thank me for the experience.
Simple! :) And we both have fun. I promise I will be locked in MY chastity belt as often as I can (though some shoots or life situations do not always allow for 24/7 belting, like I had in 2008).
Risks and disclaimer:
This is at your own risk. Be sure to have a boltcutter or other emergency cutting device in case of a medical emergency.
I am not responsible for any injuries or damages that may occur from your chastity, and you accept this by ordering a device or sending me your keys.